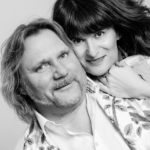 ANDRAGO = ANDReas & AGOta
Andreas M. Bacher & Ágota V. Szendrei
THE artist duo, which both complementing and mutually enriching.
Joined together in all respects.
A n d r e a s ensures that there is plenty of inspiration, encouragement,
creates visions, plans and strategic aims, conducts negotiations,
speaks to the people and enthuse them, collects raw materials for the artworks,
takes photos, edits and modifies them and performs the logistical tasks.
Á g o t a brings her creativity into life through painting, drawing, forming ceramics
and coloring them, making driftwood displays. She forms art concepts, designs,
creates videos and photos about our artistic work and ensures a clear structure and
reliable work progress during production.